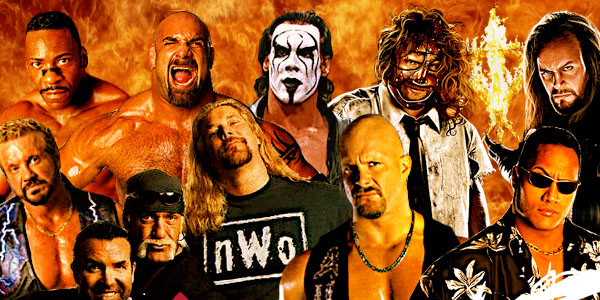 Planos para WWE x WCW WrestleMania X8
Jim Cornette, ex-booker da WWE e WCW revelou ao canal Controversial Wrestling Shoots
os planos para a WrestleMania X8 após a compra da WCW feita pela WWE e que só não saiu do papel pois vários wrestlers acabaram não ficando na WWE após o fim da WCW.
Seria um show de 5 horas e 16 lutas.
(Undisputed WWF World Championship)
Austin over Foley
(Streak Match)
Undertaker over Terry Funk
(WCW Icon vs WWF Icon)
Sting over The Rock
(Singles Match)
Hogan w/J. Hart over Dusty Rhodes w/J.Cornette by DQ
(Singles Match)
*If Flair wins, he gets 5 minutes with Eric Bischoff
Ric Flair over Vince McMahon
(Tag Team Match)
Road Warriors over Duddleys
(30-Minute Iron Man Submission Match)
Benoit over Angle
(U.S Champion vs I.C Champion)
HHH over Booker T
(Tag Team Ladder Match for the WWF Tag Team Championship)
Edge/Christian w/ Trish Stratus over Nova/Lynn
(Tag Team Match)
Steiners over Show/Kane
(Singles Match)
Jericho over Storm
(Tag Team Match)
Dustin Rhodes/Jarret over Hardys w/ Lita
(6-Man Tag Team Match)
Eddie,Saturn, Malenko over Chavo. Rey. Candido
(Singles Match)
Lesnar over Bigelow
(Singles Match)
Kevin Nash over Rhyno
(14-Man WCW Battle Royal)
RVD over Steve Blackman, D'Lo Brown, Al Snow
Val Venis, Bull Buchanan, Justin Credible
William Regal, Bill Demott, Balls Mahoney
DDP, Kanyon and Harris Twins
.